About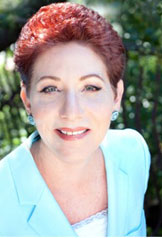 Randy Roberts is President of Randy Roberts Consulting. For over 35 years, she has worked as a transformational coach and senior facilitator guiding leaders and their teams to produce breakthroughs in their productivity and effectiveness.
A world-class strategist and educator, Randy's career has been truly global in scope, serving clients in over eleven countries on four continents including Singapore, Japan, England, Germany, Greece, the United States and Canada. Randy specializes in empowering organizations and the individuals in them to actively create their own future, rather than being limited to a future thrust upon them by history or circumstance.
Randy has designed, facilitated and led training and development programs for over 300,000 people worldwide. She works with a diversity of clients, all leaders in the fields of finance, media and technology, among them, Apple, NBC, Levi, Dolby, Hewlett Packard, Genentech and First Data.
A dynamic and entertaining speaker, Randy's unique approach, humorous insights and leading-edge ideas engage her audiences. From keynoting for the Women In Technology Summit to leading group coaching sessions with executives at ABC, Randy stimulates learning and inspires action.